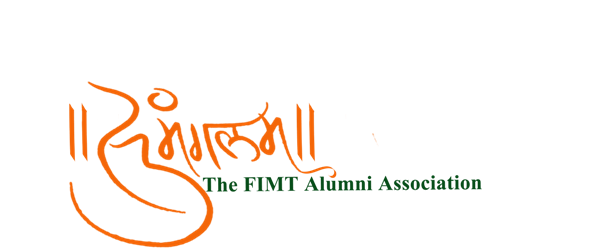 SUMANGAL - FIMT Alumni Association is created to build an engaged supportive alumni committee. FIMT and the Alumni association jointly believe in creating and maintaining association with its alumni. The Alumni Association provides an interface for establishing a link between the alumni, staff, and students of the institute. FIMT alumni are currently working at various positions in Public and Private Sector and proving their mettle in all spheres of management. It plays an important role in shaping the future of the Institute.
Alumni Association Objectives:
To bring together students of FIMT youth in every area to act as their representative and coordinate, synchronize and promote their interest in all matters.
To utilize the experience, wisdom, zeal, ability and spare time of past students of the FIMT the society for the benefit of the weaker section of the society.
To promote sports education, culture & knowledge by arranging seminars of past students of FIMT.
To arrange seminars and to develop activities for healthy environment, and to avoid pollution developed the habit of tree plantation; cultivate horticulture gardens and agriculture plants in selected areas.
To bring about better living condition, mutual co-operation amongst the past students of FIMT by implementing recreational facilities.
To arrange, conduct and hold seminars, conferences, discussions, symposia etc for past students.
To establish, acquire, construct, maintain or support library for general education and advancement thereof for past students.
To promote, social, educational, cultural activities for general education for past students.
To promote, encourage, and advance any training and/or physical efficiency of the past students includes that of sports and games in all their branches.
To print and publish books, periodicals, references, information broachers, to develop computer software and to circulate the same and conduct magazine.
Alumni Benefits for Students:
The Alumni Association Contribution through various means for our present students: -
Book Donation: Contribution by donating Books.
Alumni Interaction: They are invited as resource persons at various events, Workshops, seminar and panel discussions. They provide inputs and share their experiences regarding skills, recent technologies & trends in corporate world, application of knowledge and corporate working culture.
Entrepreneurship Awareness: Our Alumni have established start-ups in different sectors, many of them are first generation entrepreneurs. They decided to become entrepreneurs during their academic span at FIMT. Through the journey as an entrepreneur, they learnt various skills & knowledge. They enlighten the students with their success stories and challenges faced.
Mentoring &Project Assistance for final year students: Alumni of FIMT helping and guiding them to prepare their final Projects and along this mentoring them for their higher education.
Placement & Career Guidance Assistance: Alumni are working in organizations at various capacities. They keep the faculties and the placement officer abreast about the available job opportunities. They assist and guide the students to crack the interviews. They also share their experience with the students and motivate them for their career development in various domains.
Campus recruiters: Alumni come to campus as recruiters for their companies and also recommend and promote FIMT to their employers for campus placements.
Summer Internship Opportunities: SIP being a part of the BBA, B.Com (H), BCA, BA LLB & BBA LLB curriculum; Alumni provide innumerable opportunities in various companies to the students.
Alumni Success Stories
Just the first of your many amazing future achievements. See how FIMT College alumni are pursuing rewarding careers, redefining their fields, and living their dreams.
FIMT has invited you to fill out Alumni Registration Form:
FIMT Alumni Registration Form
Details of the student who have graduated from FIMT.